This article will show what business leaders must recognize how, when, and where we work are no longer constrained by traditional notions of time and space.
"In Singapore," said Joanna Lim, Modern Work and Security Business Group Lead, Microsoft Singapore, "we recently moved from being allowed to return to the workplace, back to where working from home is once again our default.
"As businesses adapt to the disruptive change, business leaders must recognize that long-held assumptions no longer hold true with their employees. They must now make choices that will impact their organizations for years to come."
What is Hybrid work?
Hybrid work is an approach that takes into account the individual's needs, whether they're at home or at the office. Our platform enables people to work from any location, and move between sites as needed.
Many organizations see hybrid work as the evolution of remote working, allowing employers to better integrate remote working into overall business processes while providing comparable work experience for remote workers.
Hybrid work trends in Singapore
Proportion of workers in the resident labor force who WFH due to the COVID-19 situation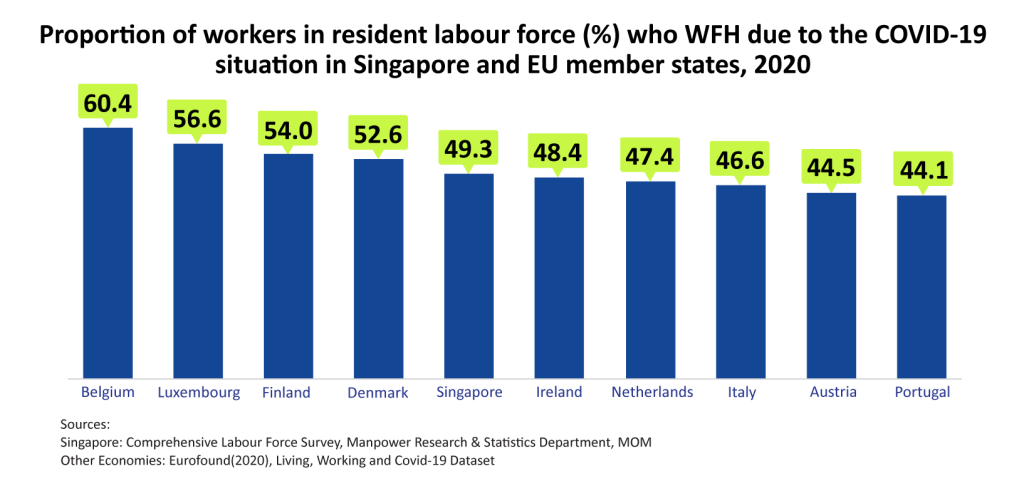 As the global Covid-19 situation worsened in 2020, businesses adopted a new mode of operation, allowing their employees to work from home (WFH). Singapore is no exception, with 49 percent of employed residents working remotely by 2020.
This resulted in one of the highest proportions of resident employees working remotely when compared to other European Union (EU) member states such as Belgium and Finland, where more than half of employed residents worked remotely. ( Labour Force in Singapore 2020 edition: Impact of COVID-19 on the Labour Market​ )
Work-from-home is no longer the default in Singapore
From Jan 1, 50 percent of employees who can work from home will be allowed to return to the office, said the Ministry of Health (MOH) on Tuesday (Dec 14, 2021). (channelnewsasia)
Flexible work is here to stay
More than 82 percent of Singapore workers want flexible remote work options to stay, but 66 percent want more face-to-face time with their teams.
As a result, 62% of business leaders are more likely to redesign office space to accommodate hybrid work. (Microsoft)
Unalignment between leader and workers
According to research, 51 percent of Singaporean leaders are thriving right now, while only 27 percent of employees (without decision-making power) are. (Microsoft)
Singapore Gen Z is exhausted
Gen Z (aged 18 to 25) is particularly vulnerable, as more than 70% of this generation in Singapore believes they are merely surviving or struggling. (Microsoft)
How employers in Singapore are approaching hybrid work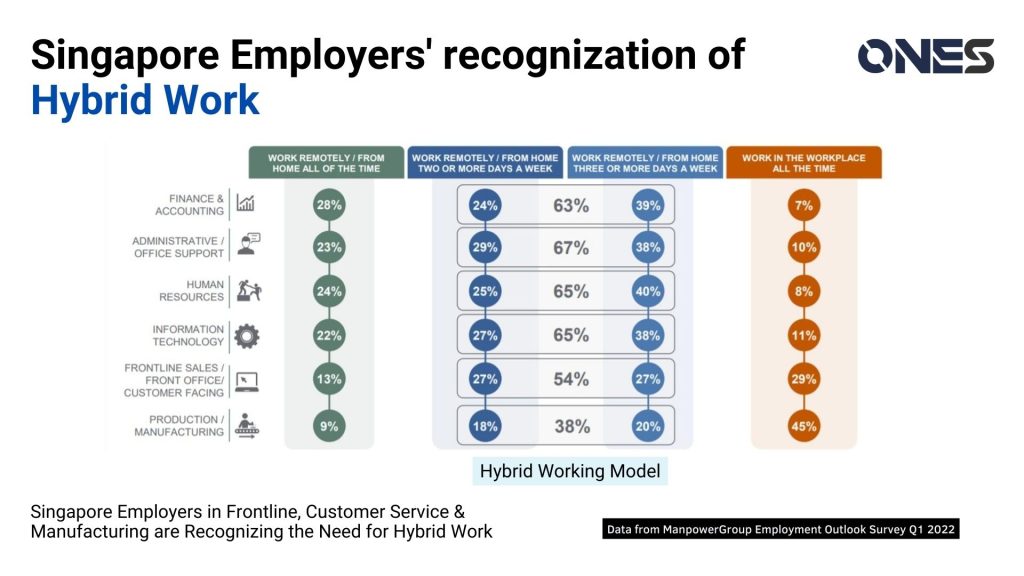 Employers in Singapore expect the majority of their workforce to work remotely in Q1 2022, with the exception of those in production/manufacturing and frontline sales/front office/customer-facing roles, where 45 percent and 29 percent of employers expect their employees to work in the workplace all the time, respectively.
In terms of human resources, 24% of employers polled said they would expect their HR teams to work remotely all the time, while 65% expected a hybrid arrangement (25 percent indicated working remotely twice or more a week, 40% indicated thrice or more), and 8% expected HR to work in the workplace all the time. (ManpowerGroup)
Preference for remote work and hybrid work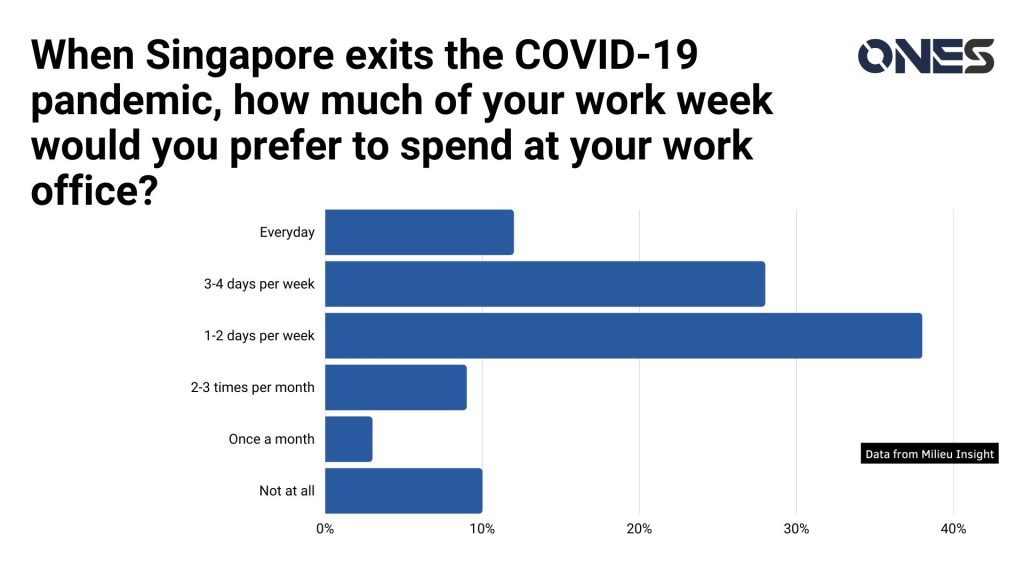 The ability to work remotely appears to be the most popular option among Singapore employees, with the majority (78 percent) preferring a hybrid schedule.
Employees are far less enthusiastic about committing to a single environment: only 12% prefer working from the office all the time, and 10% prefer working remotely full-time. (Milieu Insight)
The reason why Singaporeans choose remote office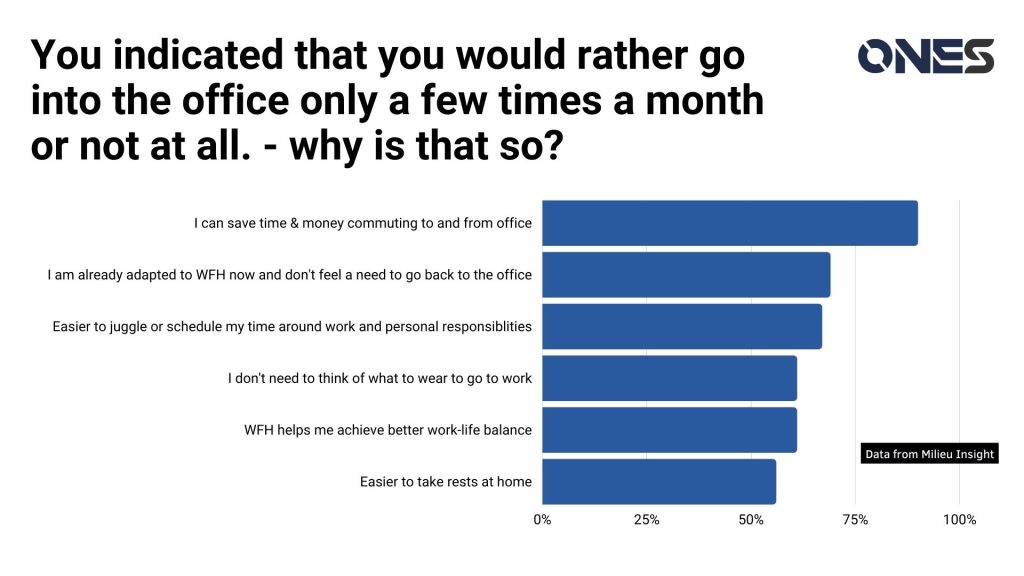 In addition to saving time and money on commuting to and from work, those on hybrid work arrangements cited improved work-life balance and a less stressful working environment as benefits of working from home.
Those currently working in a hybrid work arrangement appear to have a higher quality of life because they have more time and fewer office stressors. (Milieu Insight)
Reasons why Singaporeans choose to work at office/client location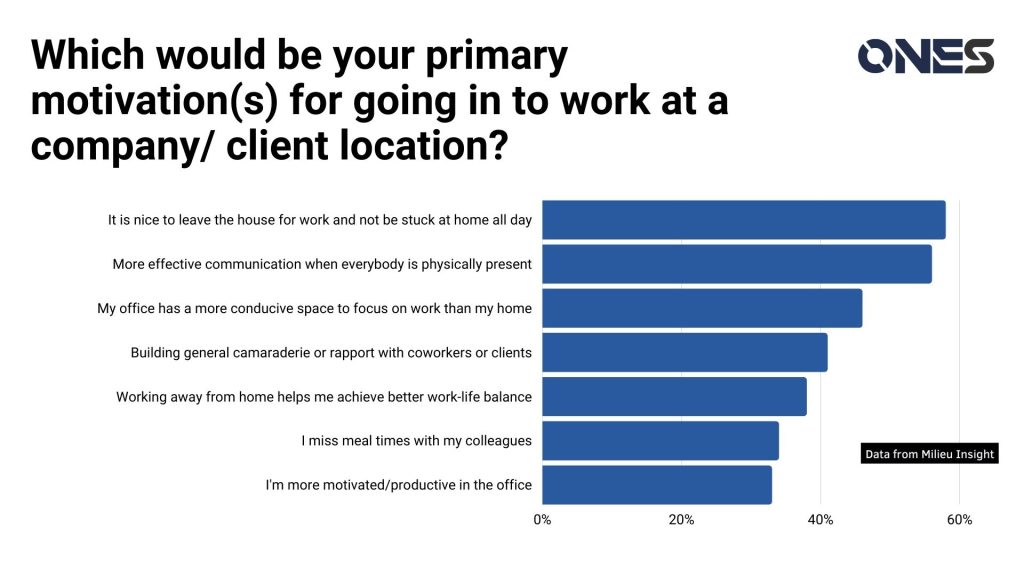 Admins wanted to understand employees' primary motivation(s) for going to work with the hybrid model designed for flexibility of working remotely while still offering structure, stability, and social benefits.
According to the survey of Milieu Insight, employees are motivated to come to work to meet with their teams and colleagues for collective work, brainstorming sessions, building connections, and other social rituals.
To be truly successful with a hybrid work arrangement, businesses should consider transforming their offices to accommodate what these spaces will actually be used for – for employees to innovate, collaborate, and connect. (Milieu Insight)
More information
ONES Software now has a dedicated page to introduce a series of hybrid working measures to help you solve problems. You may wish to go to https://ones.software/sg/hybrid-workspace/ for further reference.  
Contact us: hello@ones.software, or visit ONEs Software official website for more information: https://ones.software/. 
Businesses General Requirements: https://www.gobusiness.gov.sg/safemanagement/general/
FAQs on Safe Management Measures at the workplace: https://www.mom.gov.sg/covid-19/frequently-asked-questions/safe-management-measures