66% of workers would like to find a flexible job in the coming future.
The unalignment of expectations of different parties lead to talent loss.
Hybrid working is the best way to resolve the conflict between the younger generation and C-level people.
Why does the younger workers' thinking matter?
Because of Covid 19, many companies have adopted work-from-home practices to ensure employee health safety.
However, when Covid-19 is coming to an end, the mode of working is shifting and it is now deeply dependent on the mindset of the employees. The younger employees are one of the most important stakeholders as they participate in most of the front-end jobs and they will take part in an important role for your company. That is why what they think is an important factor for your office planning strategy.
Qatalog and GitLab are the leader in the I.T. industries who recently completed a survey (Killing Time at Work '22) on research exploring knowledge workers, like I.T. talents whose focus on developing and using knowledge, rather than producing goods or services.
In this survey, they asked 2,000 knowledge workers – 1,000 in the US and 1,000 in the UK, about the experience of asynchronous work, the barriers to adoption, and its growing importance in the modern workplace.
Glossary: Asynchronous (async) work means that people work in the same team during different times of their own timetable without waiting for a response, it also represents flexible work.
The expectation of younger generation workers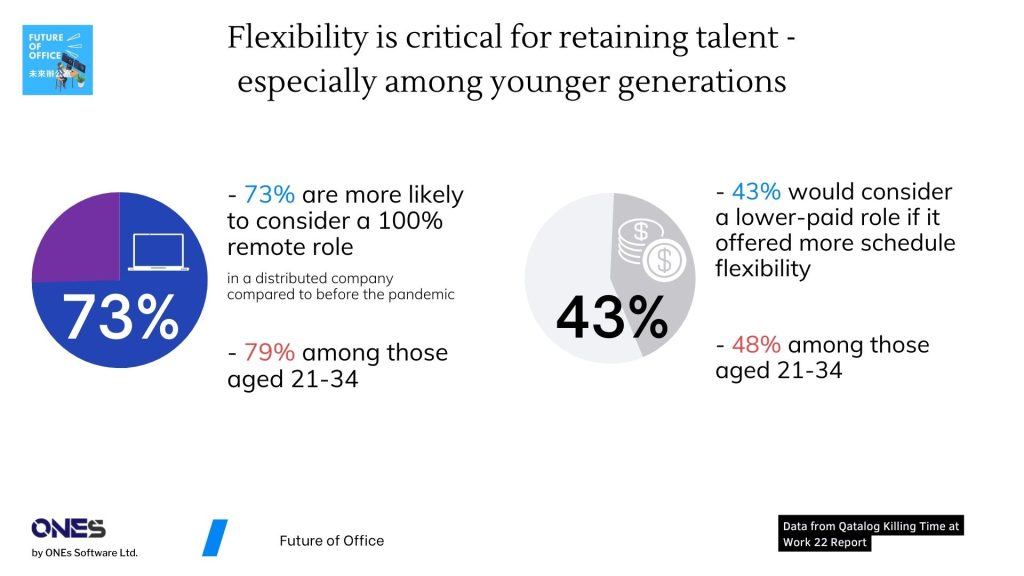 Nowadays, people are seeking to work flexibly as it become a new norm after COVID-19. Based on the survey, we can see there are lots of positive impacts of flexibility on wellbeing.
According to research, 79% of the aged 21-34 participants would consider fully remote working because they can have less stress without C-level execs monitoring and be much happier. They also reflected that flexible work can make them work more productively and creates higher quality outcomes.
Moreover, 43% of people indicated they would consider a lower-paid role if it gave them greater schedule flexibility. The reason is that flexible work gives them more free time to pursue hobbies and other interests outside of work.
The conflict between directors and younger workers
The expectation of the people, especially the young generation, is to have flexible, asynchronous work. However, some of the administrators still support the traditional working method, such as working at the office and having lots of daily meetings, such as Tesla. The major reason is that C-level people and administrators cannot make sure the workers work in time and keep a high attendance rate.
However, flexibility is one of the key factors for companies trying to attract and retain talent. 66% of the young talents would resign from their job if they can't fight back for the right to work flexibly. This unalignment of expectations between companies' directors and younger generation workers would eventually cause talent loss.
To reduce talent loss, all you need is to align the expectation between employees and the directors. One of the best solutions is a mixed style of work at the office and from home, i.e., hybrid working.
Read more: Recession fears complicate new work era – ONEs Blog
A perfect system for hybrid working: Bookings ONE
Hybrid work means a mixed working style of working at the office and working from home. You can allow your employee to have high flexibility to choose their desirable workspace. Then you can consider how to reduce the operational cost such as reducing the office workspace, and fulfill the expectation of both employees and administrators.
Bookings ONE, one of the famous management systems, can help you to easily implement hybrid working at ease. You can easily perform virtual meetings, desk-hoteling and digital office management with our Room Booking, Desk Booking, and Visitor Management features.
ONEs Software now has a dedicated page to introduce a series of hybrid working measures to help you solve problems. You may wish to go to https://ones.software/hybrid-workspace/ for further reference.
Contact us: hello@ones.software, or visit ONEs Software official website for more information: https://ones.software/.