More than half of young workers say hybrid working is key to their willingness to stay;
Employers need to improve the shortcomings of office work while offering a hybrid working model;
Is remote work interpreted differently for various age groups? At the start of the pandemic, it was assumed that younger employees would be put off by the cramped living circumstances and missing face-to-face learning chances, whereas their bosses would consider working from home as a new blessing and a major savings in travel costs. However, current work-pattern research indicates that opinions regarding remote working are not so divided as to form a popular consensus.
According to the most recent WFH Research statistics, quoted by Bloomberg, most typical office workers appear to favor the ability to work from home at least one day each week. If their company refuses to provide hybrid working possibilities, people in their twenties are more inclined to start seeking for a new employment, while those over 50 are more likely to just resign.
Working from home becomes a common consensus
According to the data research, the inclination for remote work exists for people of all ages. The reduction in travel time, the most commonly mentioned benefit of remote working, is especially appealing to the younger generation. They are particularly sensitive to the cost of transportation as a percentage of their total costs. At the same time, they've had years to get used to sharing office space and negotiating communal spaces with their housemates.
Employers, facing a tight labor market and the need to attract developing potential, are nonetheless giving certain remote working choices to improve their capacity to recruit talent.
How to balance the pros and cons of working from home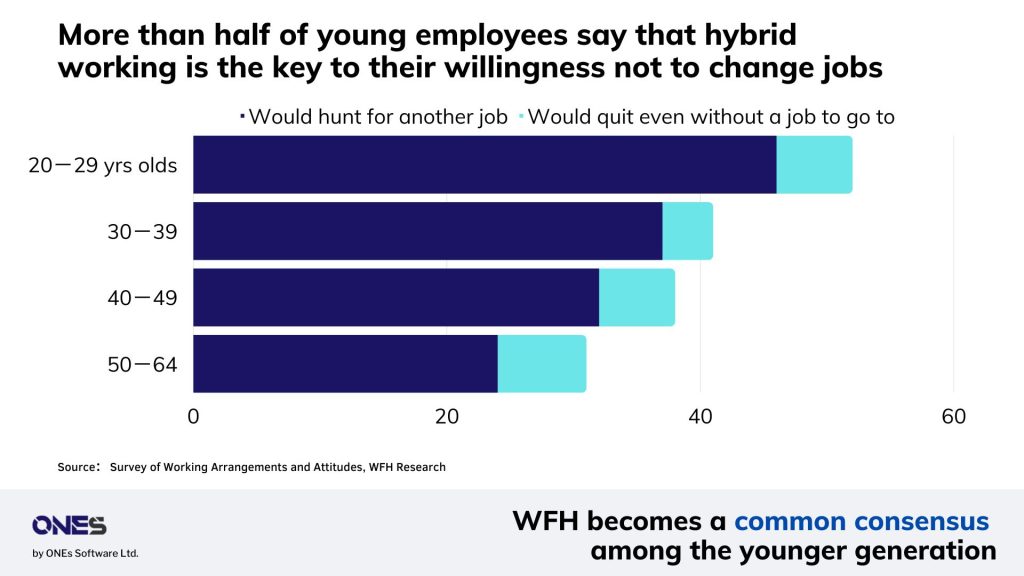 The shortcomings of working from home, the loss of on-the-job learning and face-to-face interaction are still unresolved issues. Reducing the number of hours worked in the office means fewer opportunities for knowledge transfer between colleagues and a weakening of relationships within the company, which is as important as the ability to attract talent.
Therefore, to balance the increase and decrease of various corporate competencies, employers need to encourage the use of return offices while also offering a hybrid working options. Flexible working hours can help employees to avoid peak work periods and deal with non-work related family matters.
Employers should be responsive to the common shortcomings of office work. For example, Alphabet's Google plans to give people more space in its future offices to address the problem of distractions in the workplace. This reinforces the trend for corporate tenants to seek higher quality work space in prime locations.
How to implement hybrid workspace?
ONEs Software now has a dedicated page to introduce a series of smart office measures to help you solve problems. You may wish to go to https://ones.software/hybrid-workspace/ for further reference.
Contact us: hello@ones.software, or visit ONEs Software official website for more information: https://ones.software/.