This article will briefly describe the status of females and suggestions to protect them in Singapore.
Flexible Working Arrangements & Hybrid Working are one of the major implementations to help not just females but all workers.
The status of female employees in Singapore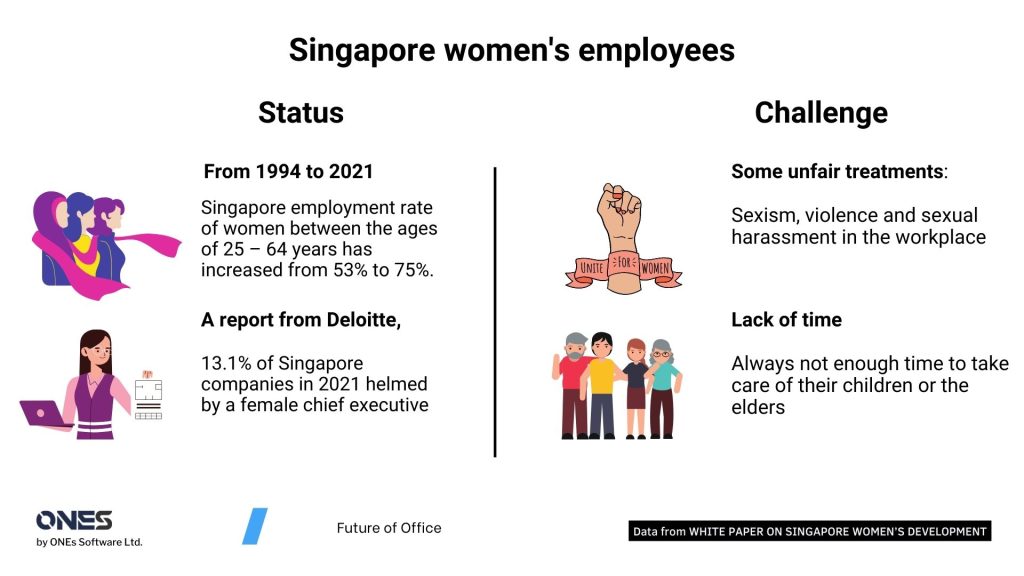 Since Singapore attained self-government in 1959, the Government has worked tirelessly to support Singapore women and make sure they are standing in society has risen steadily.
From 1994 to 2021, the Singapore employment rate of women between the ages of 25 – 64 years has increased from 53% to 75%. According to a Deloitte report, 13.1% of Singapore companies in 2021 were helmed by a female chief executive and that is the highest share globally.
Moreover, Madam Halimah Yacob was sworn in as the first female President of the Republic of Singapore in 2013. As you see, Singapore's female workforce is becoming increasingly important in the workplace.
Nevertheless, Singapore women still face some unfair treatment, for example, sexism, violence, and sexual harassment in the workplace, etc. Therefore, the Singapore Council of Women's Organization (SCWO) has submitted the "WHITE PAPER ON SINGAPORE WOMEN'S DEVELOPMENT"  to Singapore Government to provide suggestions to protect female employees. 
Flexible Working Arrangements & Hybrid Working
As a result of the COVID-19 pandemic, globally many companies (including Singapore companies) have conducted the flexible working method, i.e., hybrid working.
To better support more women to enter and progress in the workforce, the white paper recommended that the Government should guide and support companies to provide flexible working arrangements (FWA), and require employers to assess requests for FWAs fairly and properly.   
FWA is a new set of tripartite (Policymakers, employees, and unions) guidelines and the aim is to require employers to consider flexible work arrangement requirements fairly and properly by 2024.
The meaning of a fairly and properly flexible work arrangement is that reminding the directors to decide on the working method should be balanced between the needs of the companies and employees, not only benefits one side.   
According to a study by the Institute of Policy Studies in Singapore, 42% of workers who prefer flexible work arrangements would consider quitting if they were forced to go to the office most days. If companies implement flexible working, they can satisfy the employees' needs and retain their talents. Thus, the best solution to balance the needs of the companies and employees is to implement hybrid working. 
Suggestions to support employees by Woman's Organization
One of the important suggestions of the white paper is to recommend that companies implement flexible working. One of the general reasons is that it can give the employees more flexibility to work, then can make them work efficiently as they have less stress.  
The white paper also recommended that the Singapore companies' directors should take care of the female welfare and have a close connection with women's organizations, such as the Singapore Council of Women's Organizations (SCWO).
These organizations will support the companies to protect female employees and help the women employees achieve a balance between their career and family aspirations. Furthermore, hybrid working allows the employees to have a flexible work schedule, work hours, and work location, also they can decide the workflow by themselves.  
How hybrid working can protect women's rights?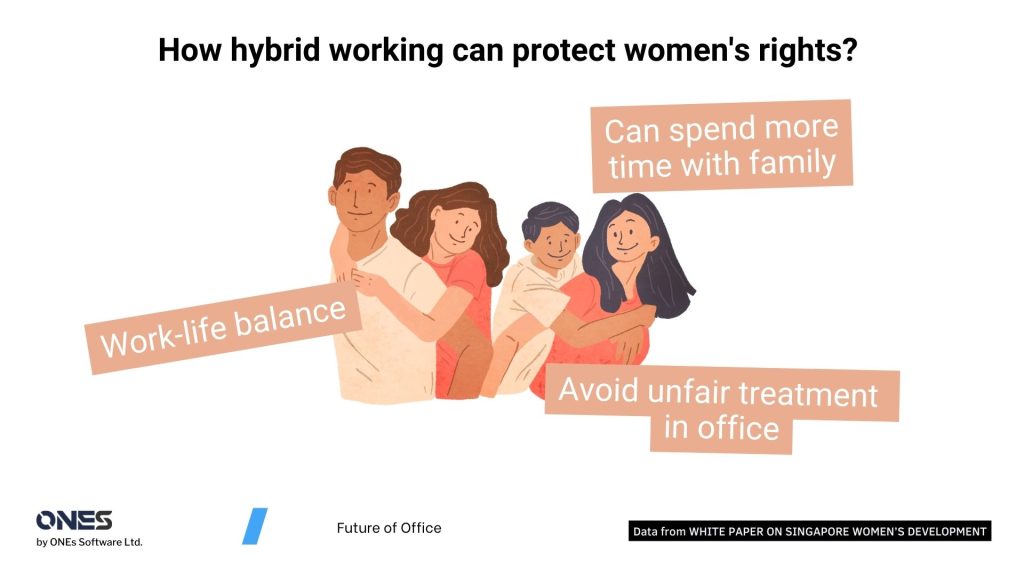 Can spend more time with family
The first advantage of hybrid working is that flexible working hours allow the women employees can spend more time with family and improve their attendance. The reason is that Singapore women are very cautious of their families. Flexible work locations can prevent women employees from always needing to request leave because they need to take care of their children or the elders.  
Prevent in-office unfair treatment
The second advantage is the flexible work schedule allows the female employees to set their own work schedule. This can prevent unfair treatment such as sexism, violence, and sexual harassment in the workplace as they need not be forced to work with others in the office every day.  
Maintain work-life balance
Last but not least, hybrid working can help women employees' work-life balance and improve their attendance because flexible work locations prevent them from always needing to request leave to take care of their families.  
The flexible work schedule can help women employees far away the sexism, violence, and sexual harassment as they have the own right to set the work on their own schedule. This can protect the women employees safe and also ensures that the company's reputation is not affected by the scandal.
Therefore, hybrid working has a great positive impact on Singapore women's development.
A perfect system for hybrid working in Singapore: ONES
A hybrid office should use a comprehensive office management system, which helps Singapore employees use office resources efficiently, such as rooms, desks, and office equipment, and support them have remote work and virtual meetings with their colleagues in the office.
If you are the company director in Singapore, using the management systems can help you consider how to reduce the operational cost such as reducing the office workspace and fulfilling the expectations of both employees and administrators.
ONES, one of the famous management systems, can help you to easily implement hybrid working with ease.  You can easily perform virtual meetings, desk-hoteling, and digital office management with our Room Booking, Desk Booking, and Visitor Management features.  
ONES Software now has a dedicated page to introduce a series of hybrid working measures to help you solve problems. You may wish to go to https://ones.software/sg/hybrid-workspace/ for further reference.  
Contact us: hello@ones.software, or visit ONES Software official website for more information: https://ones.software/.